BOC Sciences offers HEK293-transfection kits to help you optimize your transfection experiments.
Introduction of HEK293
The origin of HEK293 cells can be traced back to 1973. It is an immortalized human embryonic kidney cell developed by transfection with sheared human adenovirus 5 (Ad5), which integrates the genes for adenovirus proteins E1A and E1B into its genome. The expression of the two proteins promotes the growth of HEK293 cells by regulating cell cycle and apoptosis, and can act as essential cofactors to increase the production of recombinant adeno-associated virus (AAV) particles, thus making them efficient "cell factories".
Since the establishment of the HEK293 cell line, it has been fully characterized and many unique derivative cell lines have been developed.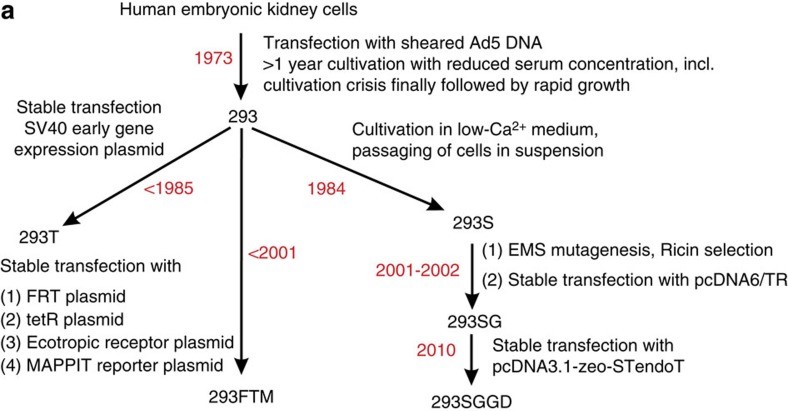 Fig. 1 Derivation history of HEK293 cell line (Lin YC, 2014)
CHO Transfection Kits
| Products | Cell Types | Details |
| --- | --- | --- |
| HEK293-Transfection Reagent | HEK293 cells | BOC Sciences HEK293-Transfection Reagent is a unique formulation based on polycationic liposomes of non-animal origin. It is designed for the transfection of HEK293 cells grown in suspension culture and is ideal for mammalian protein production. |
| 293T/17 Transfection Reagent | 293T/17 cells | BOC Sciences 293T/17Transfection Reagent is an agent-based on liposomes of non-animal origin. It is designed for efficient transfection of small RNA and DNA. |
| 293 CRISPR Transfection Reagent | 293 cells | BOC Sciences provides specially optimized 293 CRISPR transfection reagent, which is specially used to efficiently deliver the CRISPR/Cas9 system in the 293 cells to achieve efficient gene editing. |
Highlights
Low cell cytotoxicity, using optimized cationic lipid formulations
High transfection efficiency for small RNA (siRNA, shRNA, miRNA) and DNA
Reproducible and easy to handle, no need for complex removal nor media replacement after transfection
Reference
Lin YC; et al. Genome dynamics of the human embryonic kidney 293 lineage in response to cell biology manipulations. Nat Commun. 2014 Sep 3; 5: 4767.
Related Sections:
Quote Request